Melodifestivalklubben is arranging many more events in connection with the final of SVT's selection of a song for Eurovision. It will be possible to party every day between Thursday 8 and Sunday 11 March, and lots of special offers will be available.
Both Swedish and other hardcore fans travelling to Stockholm have asked about activities in addition to our traditional pre-final dinner and after-party. So we are launching a whole programme of events.
Melfest weekend 2018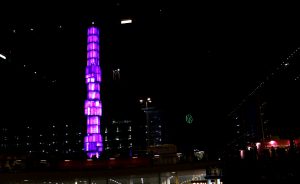 Thursday 8 March
Eurovision karaoke
at Gröna Jägaren, Götagatan 64
Time: 20.00 -01
Free entrance, 18+ age limit
https://www.facebook.com/gronejagarens/
Eurovision karaoke king Michelle Imberti  (Italy, San Marino 2018) opens Melfest weekend with an evening of karaoke. Gröna Jägaren boasts Europe's widest choice of ESC songs in karaoke version. Request your favourites now – anything not in stock now can be ordered if we know in advance.
Mail your request direct to karaokeking@melodifestivalklubben.se

Friday 9 March
Babsan Show – A Life in Pink
with Lars Wilhelmsson
Rival, Mariatorget
Time: Meet n Greet at 18.30, Show 19.30– 21.00
Glitter show with humour and song. Price for OGAE members SEK 400 + service charge includes Meet n Greet + show (ordinary price 525:- for show only) Use this link http://burl.nu/xlgeyp to take advantage of this offer.  A perfect start to the evening before moving on to Hard Rock Café.

Melfest warm-up at Hard Rock Café
Sveavägen 75
Time:  22.00-01
Free entrance
https://www.facebook.com/HardRock.Stockholm/
10% discount for OGAE cardholders all evening.
Hosted by: Richard Herrey (Winner of Melodifestivalen and Eurovision Song Contest 1984)
Artists:
Amaya (Slovenian Eurovision 2011 Finalist)
Emma Official (UMK 2017 Finalist and San Marino 1in360 Finalist)
Greta Zazza (Lithuanian Eurovision Selection 2017 Finalist and 2018 Public Vote Wild Card Winner)
Boris René (Melodifestivalen 2016 and 2017 Finalist)
Lukas Meijer (Eurovision 2018 Contestant – Poland)
Saturday 10 March
The Final Party
Melodifestivalens traditional pre-final dinner and party with secret guest artist.
Restaurang Mynchen, Söder Mälarstrand 31
From 18 year age limit
Time:   14.30- 03.00
Entrance:  SEK 190-720
Booking deadline:   27 February  (4 March for After-party only)
https://melodifestivalklubben.se/dags-att-anmala-sig-till-finalfesten/
New for this year! Chance to join late-late party after 3 a.m. on Patricia.   
The best way to round off six weeks of Melodifestivalen is our own "final party" at Restaurang Mynchen. Join other members for a meal and appearance by one or more guest artists. You can either stay there during the broadcast or come back from Friends Arena to dance the night away. Information about the pre- and after-parties can be found in English on the link above.
Late-late party
When Mynchen closes at 3 a.m. you will have the chance of a ticket to Patricia, which is moored close by, and continue the party until 5 a.m.

Sunday 11 March
Melfest- Cool down party
"Patricia",  Quay 19, Söder Mälarstrand
Gay evening, 18.00 – 05.00
Entrance free with OGAE card
Welcome bubble: SEK 40
Wind down and say goodbye to friends on Patricia where we will be given VIP treatment in our own lounge.  Storschlaget entertain with their show. Nearly 50% discount on food.