Concert in the Dark ägde rum den 21 april för att fira årets artister i Eurovision Song Contest samtidigt som vi gjorde något gott för miljön. Ett klimatneutrat Pre-ESC party! 15 av årets artister uppträdde och gäster såsom bl.a. Måns Zelmerlöw, Lake Malawi m.fl. Det går att se programmet i några veckor efteråt på www.eurovoix.tv – konsert + efterfest som delats upp i två delar 2,15 timmar + 1 timme DJ-set!
Varje år åker artister runt hela kontinenten för att promota sina låtar inför Eurovision, i år blir det inga partyn i vare sig London, Amsterdam eller Tel Aviv. Vår egen Melfest WKND i mars blev en digital sändning i år – men nu gör vi ytterligare ett event. I samarbete med brittiska Eurovoix.tv har vi bjudit in årets artister att vara med oss i en unik digitalt sändning den 21 april. Förutom en stor mängd av årets Eurovision-artister har vi även bjudit in flera favoriter från Europas nationella finaler, inte minst flera av våra egna Melodifestivalartister, så klart! Det kommer dyka upp flera specialgäster under kvällen, som alla har förberett unika framträdanden för denna magiska kväll.
Vilka artister det blir kommer att avslöjas på @eurovoixTV Twitter konto veckan innan eventet!
Concert in the Dark arrangeras dagen före Earth Day. Tanken är att du ska stänga av ljusen hemma, på samma sätt som vi gör i studion. Du kommer även kunna donera för att plantera ett träd eller flera under kvällen som går. Vi ger support till MoreTrees.eco vars mål är att plantera en miljard träd, kämpa mot extrem fattigdom och mot utarmningen av världens skogar.
Programmet produceras av Eurovoix.tv i samarbete med Melodifestivaklubben och är för oss därigenom en förlängning av Melfest WKND. Ifjol var vi det enda Pre-Eurovision eventet som överhuvudtaget ägde rum innan pandemin slog till och ställde in allt annat. Vi fortsätter att kämpa på och vi vill helt enkelt ge alla fans i Europa en minnesvärd upplevelse.
Eurovoix producerar förutom tv, bl.a. en nyhetssajt och den populära podden The Euro trip. Värd under kvällen blir Rob Lilley, som även var värd för Eurovoix's Eurojury mellan åren 2013 till 2020. Programmet regisseras av Samuel Deakin och producent är Callum Rowe.
Du kan se Concert in the Dark via eurovoix.tv den 21 april och programmet startar 21.00 (CET) Så missa inte detta, följ med oss på #ConcertInTheDark
---
English: Concert in the Dark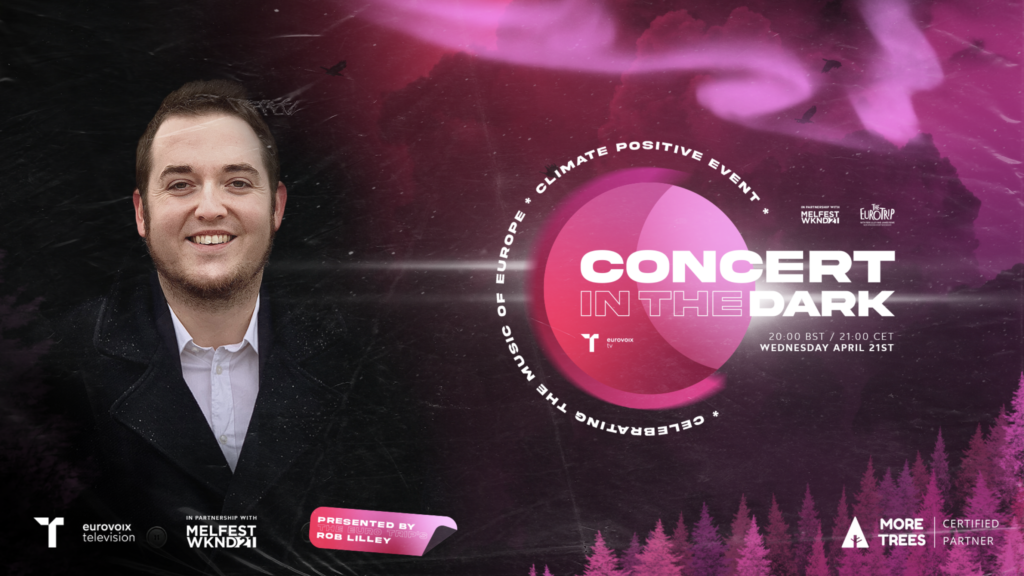 Concert in the Dark takes place this April to celebrate the artists of the Eurovision Song Contest and the music of Europe, while doing good for the environment, in one of the only pre-parties of the year.
Each year, competing artists would tour the continent to promote their songs for the Eurovision Song Contest, and while there's no party in London, Amsterdam or Tel Aviv this year, we've invited this year's participants to join us digitally for a unique live broadcast. Taking place on April 21st, Concert in the Dark will run long into the night as a telethon of European music featuring over fifteen of this year's Eurovision participants. The event will also feature a selection of national finalists and a handful of very special guests who have all prepared dedicated, one-off performances for the night. The line up will be revealed exclusively on the @EurovoixTV Twitter account one week before the event.
To celebrate Earth Day, we're asking you to turn out the lights at home just as we'll be doing in the studio, and donate to plant a tree or two throughout the night. We are supporting MoreTrees.eco, whose aim is to plant a billion trees; reducing extreme poverty and combating deforestation.
The Euro Trip's Rob Lilley returns to present an event produced by the studio that brought you Eurojury 2013 to 2020. Produced by Callum Rowe, directed by Eurojury 2020's Samuel Deakin. Eurovoix Television's Concert in the Dark has been organised in partnership with Stockholm's Melfest WKND, the only physical pre-party held in 2020.
Free to watch via Eurovoix.tv on April 21st at 20:00 BST/21:00 CET, join us for a very special #ConcertInTheDark